Little Women Big Ideas
Rachel Corcoran is a Dublin freelance illustrator and designer, whose intricate and beautifully detailed work can be seen on the covers of many books, including the Jacqui Hurley's new book Girls Play Too.
She has also produced work for Fáilte Ireland, The Irish Independent, and Kerry Group among others, and her beautiful greeting cards and prints are available in stockists throughout Ireland.
Huge thanks to Rachel for sharing her art insights with us! Before jumping into her interview below, check out her fantastic work for sale on her website.
Four Seasons Doors, Greetings Cards
Artist Interview
What's the latest piece of art that you have put out into the world?
I have been working on several exciting projects over the last few months, including a Christmas campaign for an Irish book store. My most recent children's book will be published by Puffin Books, and it details the life of the inspirational female pilot Amelia Earhart. I'm so excited to see it in print when it's released this October.
What drives you to keep creating?
I'm driven by my own passion for creating - it's just a natural and inherent urge for me to create. I have many personal goals and projects I'd like to achieve in my illustration career, and these dreams drive me to grow and develop as an artist.
Is there another artist's work that you would recommend, and why?
My twin sister is a resin artist under the name Lost Forest, and she creates miniature landscapes using real native wildflowers. Her work is so unique, magical, and imaginative - I'm just left in wonder at how she can create such tiny 'paintings' made from flowers. Her website and shop can be found at www.lost-forest.com
Do you have any advice for creators that are just starting out?

Find your voice. Don't try to speak like another illustrator. If you do, it's harder to get heard. Having a distinctive style helps a lot when you're trying to stand out within a very crowded space. Develop, learn, and enjoy. Creating should be a fun and personally rewarding experience - make what pleases you. Don't follow trends because they will always change and be part of an over saturated market. Your art should be an extension of YOU. 
Where can we find your work?
My portfolio and online shop can be found at www.rachelcorcoran.net where I sell my earth-kind greeting cards and art prints.
I also sell my prints and cards in a selection of beautiful shops around Ireland, please do see my website for details.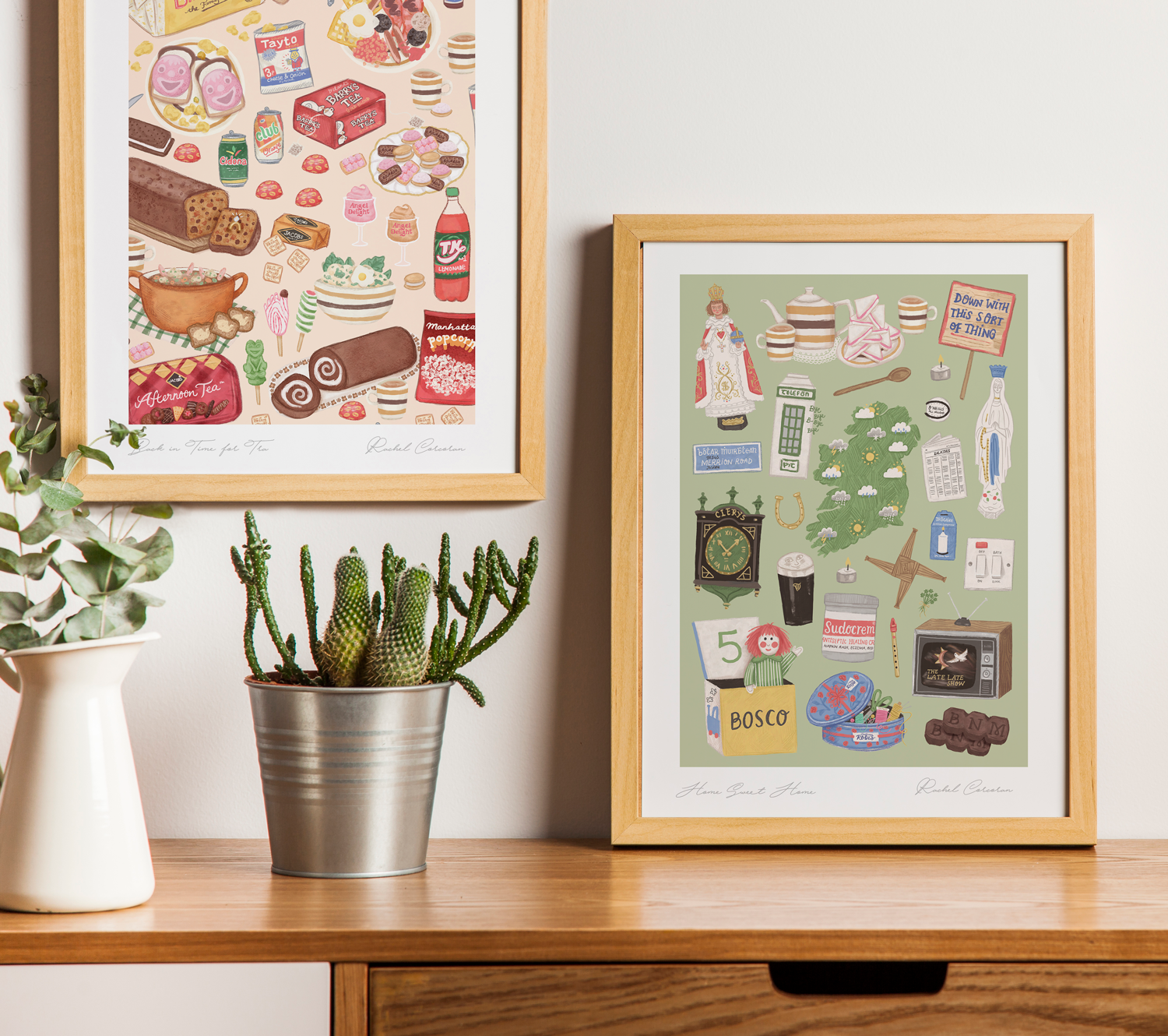 Irish Prints