MASI Print: Paul McGrath
Jack Collins is a painter and artists from Cork.
His work beautifully covers the spectrum of detailed illustration through to emotive brush strokes.
Many thanks to Jack for sharing his art insights with us! Before jumping into his interview below, check out his great work for sale on his online shop.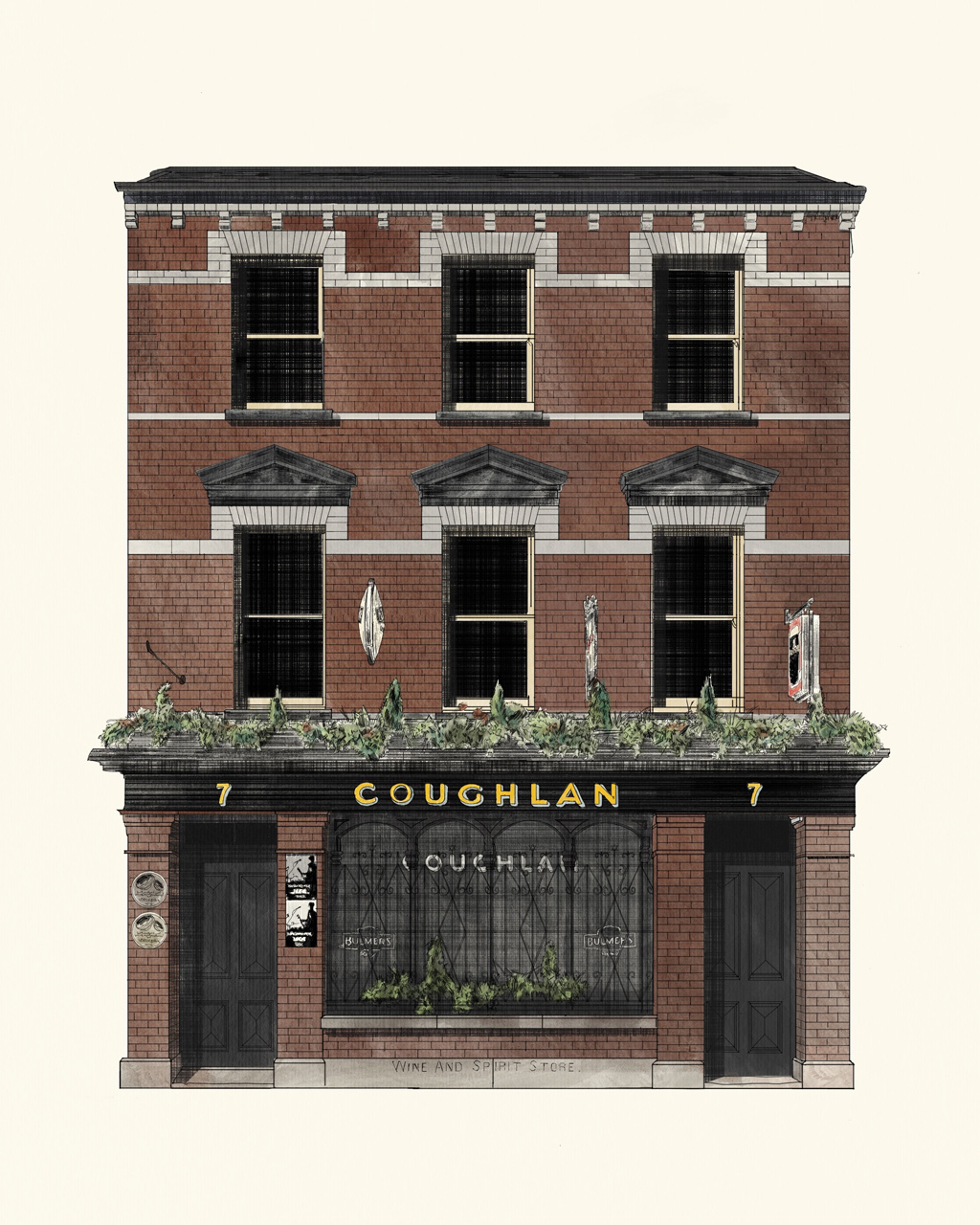 Coughlans, Blond
Artist Interview
What's the latest piece of art that you have put out into the world?
I recently completed my biggest illustration commission to date, a commemorative illustration of Jack Charlton for The FA. They wanted something that referenced both Jack Charlton's time with the Ireland and England teams to post on their social channels for the England v Ireland game on Thursday 12th November 2020. The reaction to the piece online was insane and genuinely humbling, hope I get to work on something so high profile again some time!
What drives you to keep creating?
I live in the eternal hope that somebody, somewhere will have something that I have created hanging on their wall long after I shuffle off this mortal coil, which will hopefully go some way to justifying my existence as a designer now. As well as that making stuff is just good plain fun and always a challenge. Personally I find the 'coming up with ideas' part of the process a million times harder than actually creating the work itself so challenging myself to come up with those ideas is what drives me to keep creating really.
Is there another artist's work that you would recommend, and why?
The explosion of social media in the last 10 years or so means that it's never been easier to see the work of other artists and in particular social media makes it obvious how much outstanding work is created by Irish artists in particular. I have never picked up a can of spray paint in my life but am a huge fan of street art, in particular that of ACHES, Peter Martin, Garreth Joyce, Holly Pereira and Conor Harrington. It makes my head spin how they can produce such high quality work at such a massive scale; I struggle to draw well on an A4 page. There are so many more to mention so quick shout outs to Shane Berkery, Tom McLean, Deirdre Breen, Jason O'Gorman, Kevin Lowery, Laura Callaghan, Diarmuid O'Sullivan, Rob Torrans, Glyn Smyth, Emma O'Hara, James Earley; check them all out on Instagram.
Do you have any advice for creators that are just starting out?
Far be it from me as a neophyte freelancer to be doling out career advice but if I was to recommend anything to anyone starting out I would say to try your hand at absolutely anything and everything that interests you creatively. You might be terrible at something you thought you'd be good at and you might actually be pretty good at something you thought you wouldn't be able to do in a million years.
A lot of people say that you should "find your style". My work doesn't really have a unifying style running throughout and that is fine with me but probably makes other people's skin crawl at the mere thought of it. Personally I couldn't think of anything more boring than doing vector or architectural illustrations all day every day, same goes for painting, drawing on the iPad, ANYTHING. Also, don't work for free*/exposure/swag because you'll drive down payment rates for everyone and you can't eat exposure for dinner.
*doing work for free in aid of a charity gets a pass here obviously.
Where can we find your work?
I recently set up my online shop so if you'd like to buy a print of mine some time you can do so at cackjollins.com/shop. All my illustrations, posters, paintings and more are on the site too for you to have a nose through at your leisure. I try update my Instagram as much as possible and my username is @jc.artdesign. Don't follow me on Twitter @cackjollins.
Ár Jack / Our Jack