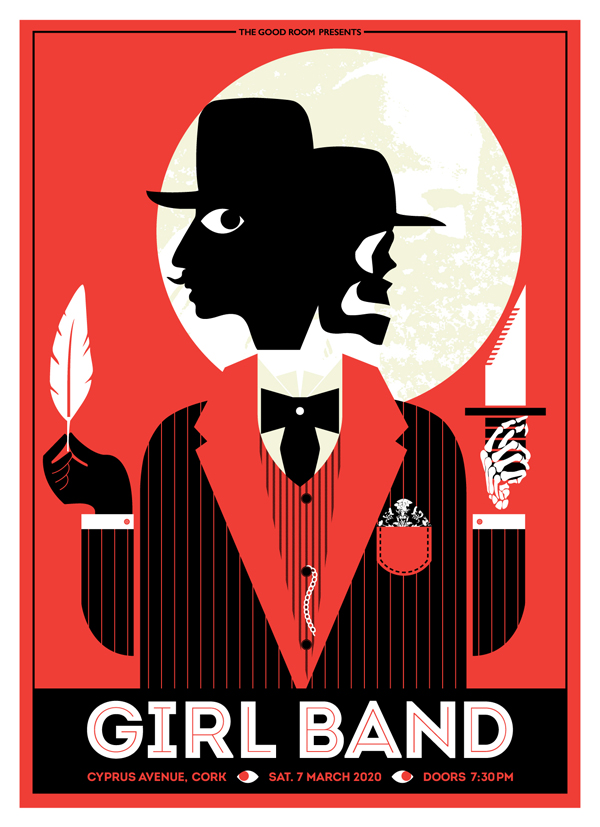 Girl Band
Craig Carry is an illustrator and designer from Cork. His work exudes a seamless blend of symbolism, style and intrigue.
He works with a range of media including screen printing, paint and linocut, and has produced work for many well known acts & venues in the Irish music scene such as Saint Sister, Villagers, Connollys of Leap, and The National Concert Hall, among others.
Huge thanks to Craig for sharing his art insights with us! Before jumping into his interview below, check out his beautiful work for sale on his online shop.
Junior Brother, The Gloaming
Artist Interview
What's the latest piece of art that you have put out into the world?
The latest piece was an album cover for Irish composer Linda Buckley, who releases "From Ocean's Floor" later this month on NMC Recordings. Linda is based in Glasgow but originally from Cork and although this is her first recorded release, she has been making music for many years with an incredibly rich and extensive body of work already, so it was really lovely being asked to do something for the cover of this particular album as she's someone whose music I've admired for many years.
What drives you to keep creating?
Just a simple desire to really. And I suppose simply trying to improve on techniques while also learning new ones. I don't necessarily love any one thing I've ever done so I often find it encouraging to think to myself that the next one will be better or be something I'll be particularly happy with or proud of. Also, trying to learn from my previous mistakes would be a big driving force. That's particularly relevant to screen printing concert poster editions since mistakes are quite commonplace with printmaking in general anyway. I endlessly find myself making both "to do" and "not to do" lists for subsequent posters. Sometimes I find it's helpful to pause one particular set of work and dive into something else entirely for a time. You never know where that will lead you. For instance, since I haven't been doing concert posters due to the Covid outbreak, I've found myself working on a new series of work in linocut.
Is there another artist's work that you would recommend, and why?
There's too many to list here but one of my all-time favourite artists is Richard McGuire (who was also a founding member of New York no-wave group Liquid Liquid some years ago). Mainly since his work covers such a diverse range of styles and platforms (graphic novels, sequential pen drawings for The New Yorker, children's books, he's even a designer and manufacturer of toys) and yet the work somehow always carries Maguire's unique outlook and "spirit" in them. His graphic Novel "Here" (published by Hamish Hamilton) is certainly one of the most inspiring things I've ever encountered and it never ceases to amaze whenever I revisit it. There's so much creativity and innovation there, yet all the while every square millimetre of each page is dripping with heart and honesty.

Another artist that has always had a really big impact on me is Iker Spozio. I first got to know his work through the many wonderful record sleeves he created over the years (including the albums of Colleen, Mark Fry, Hauschka, to name just a few) and his work crosses so many diverse mediums (drawing, painting, mono print, screen printing, pen drawings, collage) where both his technique and vision are always in wonderful harmony. In recent years, he's devoted to painting full-time, his paintings are done in egg and oleoresin tempera on calcium caseate. Each and every one is a true sight to behold, just like all his previous commercial work.
Do you have any advice for creators that are just starting out?
I would say that to remain patient and curious would be good advice. It's easier said than done I know but it's also worth remembering that you can learn and develop new techniques and skills all the time (for instance, I only began screen printing years after finishing college). I also wouldn't become too preoccupied with social media, while it's good as a promotion tool it is ultimately just that: a tool, so I'd focus most energy on enjoying creating new work (personal or commercial) and trying to develop those skills and learn new ones. And make plenty mistakes (a good sign!), it's the best way to learn.
Where can we find your work?
My own website is http://craigcarry.net and my online store is http://craigcarry.bigcartel.com. I'm not great at social media but I have a page on the usual websites.
Villagers